When it comes to difficult emotions, talking is really important. But sometimes pictures are better than words. Sometimes pictures combined with words are actually best. I have just described what a comic is. You are welcome.
Collectively the below artists have made graphic novels, comics, and one-off drawings interrogating negative self-talk, addiction, feeling disconnected from other people, depression, anxiety, mania, suicidal ideation, alternative-universe-Batman-time-travel, and dealing with sexual abuse. Some are poignant, some are funny. Some are poignantly funny.
A note on navigating the below.
CN = Content Note for the work as a whole
Suicidal ideation = thoughts of suicide
Please note that none of the images in this article contain depictions of abuse, violence or suicide.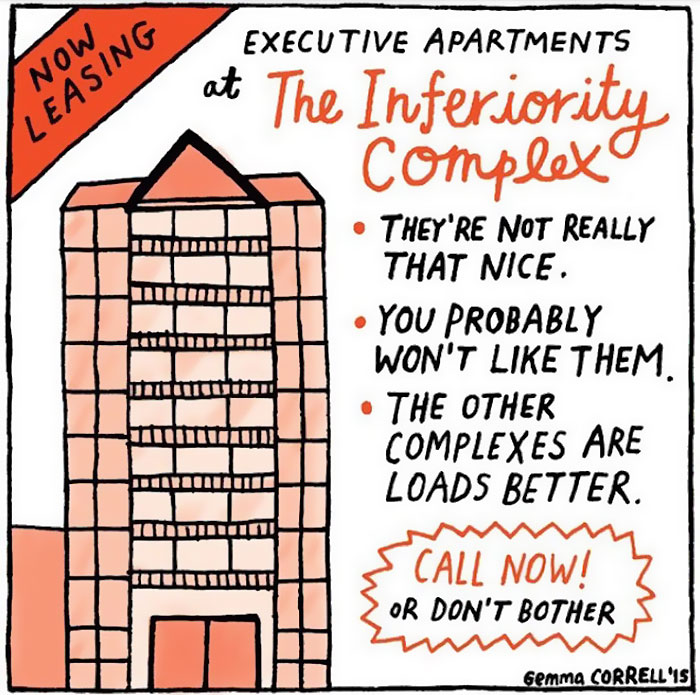 Gemma Correll is the author of The Worrier's Guide to Life and publishes comics online at GoComics and The Nib. Her short, one-page drawings frequently make jabs at pop culture and societal expectations. She also draws many cats and dogs. Her comics about anxiety and depression (a few of which have been collected here) are similarly lighthearted, but also emphasise the painful aspects of living in the world when you're running out of energy. Lethargic Larry's line in Visit Depression Land: "I'm fine. I'm just tired", is the real life depressed person's (often alienating but sometimes practical) go-to phrase for getting through basic activities, small talk, or conversations with people who are not appropriate confidants.
Humour is a legitimate coping mechanism for things that are objectively or subjectively bad. It allows us to say things we might otherwise leave unsaid, and helps us stay in control of the telling. While Correll's comics about anxiety and depression don't delve deeply into these conditions, they exemplify the way making fun of a feeling can help us express it, even if the relief of doing so isn't permanent.
Allie Brosh is the author of the web comic, blog and book, Hyperbole and a Half. Brosh's comics about her experience with depression have been praised widely for their humour, insight and accuracy – even flipping Bill Gates has reviewed her work.
Adventures in Depression genuinely illustrates the way depression can affect a person's capacity to feel, the difficulty of getting help, the pain of other people's relentless positivity, and what it's like to be in the strange position of comforting others who are, understandably, upset by your disinterest in continuing to live.
Brosh's deliberately simplistic style is perfect for depicting depression; deep sadness is similarly raw, and numbness is a one-dimensional feeling. The writing that accompanies Brosh's drawings is self-aware, dryly humorous and often vulnerable, making her simplistic style even more compelling – it makes total sense for self-loathing and resentment to be illustrated in MS Paint.
If you would like to read depression analogies about dead fish that other people won't acknowledge as dead, and the comedic potential of tiny corn – this comic is for you.
Hallie Bateman and Josephine Livingston - Better Insecurities
Text reads:
Replace – I am producing a bad standard of work and will never fulfill this vague and illusory sense of potential – With – Am I giving myself enough credit for graduating high school?
The above panel is part of a short comic Hallie Bateman and Josephine Livingston created for The Awl, which replaces statements of negative self-worth with "better" questions of ethical consumerism, relationship maintenance, and self-development.
The thought replacement used in this comic echoes the aim of Cognitive Behavioural Therapy, a type of talk-therapy (often used to treat anxiety and depression), in which people evaluate the usefulness of their negative thoughts, and attempt to discard them for thoughts that are more balanced. Important caveat: no thought is inherently 'bad'.
"At the heart of CBT is an assumption that a person's mood is directly related to… [their] patterns of thought. Negative, dysfunctional thinking affects a person's mood, sense of self, behavior, and even physical state. The goal of cognitive behavioral therapy is to help a person learn to recognize negative patterns of thought, evaluate their validity, and replace them with healthier ways of thinking." Web MD
Nina Burrowes - The Courage to Be Me
Illustrated by Alexander Betram -Powell, Katie Green, Jade Sarson, Heather Wilson and Nina Burrowes.
(CN: sexual abuse, no depictions of abuse or violence)
Nina Burrowes, cartoonist and research psychologist, is the author of three books: The Courage to Be Me, The Little Book of Authenticity, and Eyes Open to Sexual Abuse: What Every Parent Needs to Know. The Courage to Be Me focuses on the stories of five women in a sexual abuse support group.
There are many things to love about this comic. It's sensitive, diverse, depicts the way the brain deals with danger, trauma and shame, and visually translates the feelings survivors may have after abuse. Using her experience and knowledge as a research psychologist, Burrowes has created a resource that is both therapeutic for survivors, and educational for the general public.
When we hear about an invasion of another person's space or body, many of us conjure a fantasy response; the course of action we would have taken to change the outcome for ourselves. This fantasy response is often courageous and flattering to our ego. The sense of safety that comes from reimagining ourselves as victor not victim, comes at a cost to people who have survived sexual abuse. It tells them that if they took a particular action, their pain could have been prevented. The perpetrator is frequently left out of this reimagining altogether (as though sexual abuse just 'happens'), or is depicted as a monster (and monsters are not relatives, neighbours, friends, partners or employers). The Courage to Be Me very aptly explains how this shifting of blame can be retraumatising for survivors.
In one of the panels, a potential perpetrator asks the question, 'If a guy like that can be a sex offender, does that mean I could to?' This is a question few people are willing to ask, perhaps because even those of us with the most tenuous relationship to ethical conduct are desperate to believe we are good people. Even if – sometimes especially if – we have done very bad things.
What's affirming about The Courage to Be Me is the solidarity and support the survivors find in each other. Through seeing their story in the stories of other women, they find empathy for themselves, and acknowledgement of what they've been through.
While it would be impossible for a book like this to encapsulate every survivor's story, Burrowes does an excellent job collecting common experiences, and creating a safe space for the reader.
Julia Wertz, author of The Fart Party (volumes 1 and 2), Drinking at The Movies, The Infinite Wait, and Museum of Mistakes, is pretty great – and not just for using the word fart in two of her book titles.
Wertz is currently working on Impossible People, a graphic novel centering on her relationship with drinking, and her experience of rehab and recovery. In her earlier works, Wertz refers to her issues with substance abuse, often using her reliance on alcohol and the emotions that come with it in her storylines. There is humour and insight in these stories, but also distance. In The Infinite Wait (her most recent original work), Wertz depicts her experience of being diagnosed with Lupus (an incurable autoimmune disease), and her reliance on alcohol – with all her trademark self-deprecation and cynicism – but with much less detachment, indicating that the tone of Impossible People will follow suit. The sample pages on her website describe the cycle of addiction that many people experience when trying to form new, sustainable habits, and the isolation that can come from living with an unmanaged condition.
If you'd like to support the making of Impossible People (and see more work in progress), head over to Wertz's donate page.
Ellen Forney is the author of several comic books. Her most recent work, Marbles: Mania, Depression, Michelangelo and Me, covers her bipolar diagnosis and treatment, and examines the romanticised stereotype of the "crazy artist". As readers we learn about the heredity of the disorder in her family, her experience of disclosing her illness, the financial cost of treatment, and what her self-care plan looks like. We're also given valuable information about terms we may have previously heard, but not properly understood.
In the pages above, Forney gives a helpful summary of the most common types of mood disorders and states, and describes her experience of mania. As Forney explains, bipolar disorder is characterised by alternating manic and depressive episodes. The Diagnostic and Statistical Manual of Mental Disorders explains a manic episode as "a distinct period of abnormally and persistently elevated, expansive, or irritable mood, lasting at least 1 week". A manic episode is accompanied by a variety of symptoms, most commonly an increase in goal-oriented activity, and a decreased need for sleep.
While many people are familiar with depression, mania is often misunderstood, perhaps because at a distance it can seem quite positive (ambition and high productivity are qualities we generally think of as desirable, even when their effect is not). In Marbles, Forney does an excellent job of illustrating how tiring and disorientating this experience is for her, particularly when it's accompanied by a subsequent slide into depression.
Forney also generously portrays her 13-year relationship with her psychiatrist, giving readers a view into what the clinician-client relationship is – or can be – like. Psychiatrists are often characterised as uncaring, in favor of repressing emotions with drugs, and too concerned with medicating their clients to engage with them as individuals. But in Marbles, Forney describes her psychiatrist's office as a "pocket of safe space", and the only place she can relax in the midst of a depressive episode. While it's important to note that this is not everyone's experience (not every clinician is compassionate, emotionally intelligent, or good at their job), we sometimes lump psychiatry into the 'bad' box because the idea of medication is scary and 'unnatural', ergo, the people who administer it cannot be trusted.
While we don't know everything there is to know about the brain (and medication is sometimes exclusively used when complementary talk-therapy with a psychologist could be valuable), many people require medication to live functional, fulfilling lives. In Marbles, we see Forney have regular visits with her psychiatrist, adjusting her medications and dosages to find a balance that is right for her. The regularity and the transparency of these visits help to normalise this type of treatment.
Medication is frequently depicted as a tool to pacify people with mental illnesses in hospital settings. We rarely see medication as something that allows people to be high functioning individuals who make valuable cultural contributions. Forney herself is an artist, speaker, and author of several books. Normalcy and illness aren't necessarily mutually exclusive terms. Nevertheless, Forney struggles with this assumption in Marbles. Concerned that medication will dull her creativity, that her creativity is derived from her illness, and that a stable life is a boring one – she questions her choice to take medication, and finds comfort in a list of accomplished artists who may have had untreated bipolar disorder. However, through her research she finds that the experience of creativity as a medicated artist is too varied and subjective to consider medication a barrier to a creative and normal life. "It was a relief to discover that… a balanced life [does not mean] a boring one. I didn't need to be manic to get a tattoo in my mouth, or to get into Lake Washington in my clothes, or do my work".
If you'd like to read Forney's commentary on some key pages in Marbles, see this 2014 interview.
Dean Trippe - Something Terrible
(CN: sexual abuse, suicidal ideation, some depictions of violence)
Dean Trippe is an illustrator, co-founder of superhero-fashion site Project: Rooftop, and the author of Something Terrible, an autobiographical comic about childhood sexual abuse.
Something Terrible is Trippe's healing story of being protected from sexual abuse by his childhood hero, Batman. The panels in which Batman save him from the trauma he experienced are incredibly moving, and the comfort of this symbolic reimagining gives him permission as an adult to fully engage with his young son.
Something Terrible addresses our misplaced belief in the cycle of abuse, which tars childhood victims as likely adult perpetrators (research shows that most survivors of sexual abuse do not go on to offend, and that most perpetrators have never been abused). Growing up, Trippe is haunted by this belief, concerned that he has been fundamentally changed by the trauma he was subjected to. Out of fear, he avoids changing his son's clothes, or helping him at bath time. It isn't until finding this research that he feels able to be close with his son.
In the afterword to the comic, Trippe says, "I bought Batman to our world… and somehow it really did change my story". This time travel, alternative universe rewriting of self, is symbolic of the way survivors – who may experience their worth as external and defined by their abuse – can amend the way they see themselves and what has happened to them. Although nothing can change the past (and acknowledging the reality of trauma is important), we might find that we can use our resilience to gain greater control of our story by creating a different one.
You can buy a pdf of Something Terrible (and read the abridged version) here. A hardcopy of the book is set to be available in late-April this year.