Welcome to Feelings, a semi-regular gallery of popular culture GIFs, dedicated to a specific emotion. This week we have entitlement - as in, a sense of entitlement. Distinctly different from the frustration of being denied basic rights every person deserves (respect, equality, autonomy, access etc), a sense of entitlement is all about the mindset of I-want-it-give-it-to-me, which frequently intrudes on (or implicitly negates) the needs of others.
See below for who wore it best (answer: nobody).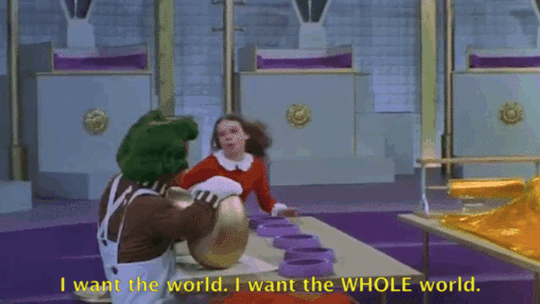 Entitlement looks kind of ugly, but there are a lot of reasons someone might carry around a sense of entitlement (unacknowledged privilege, overcompensating for feelings of shame, an empathy deficit, a poor understanding of boundaries etc). People are jerks for all sorts of reasons. Everyone is a jerk sometimes. If the feedback you've received indicates that you're acting like a jerk most of the time, talking to a professional - and listening to the experience of others - might help.
Links
Find A Psychologist findapsychologist.org.au
Male Sexual Entitlement is Killing Women by Ruby Hamad
The Lie of Entitlement by Terrence Crowley
"Listen when I talk to you!": How white entitlement marred my trip to a Ferguson teach-in by Brittney Cooper
See also - Feelings: Rage, Feelings: Entitlement, Feelings: Avoidance, Feelings: Numbness
If you need support, please call Lifeline (13 11 14) or Beyond Blue (1300 22 4636). If living outside of Australia, please seek out services in your country.